We have 8 permanent, fully staffed and catered camps (luxury lodges and thatched chalets) dispersed throughout the area. All camps have hot and cold running water with en suite bathroom facilities. Each camp has 220 volt generator power with a stand by generator and most have a swimming pool.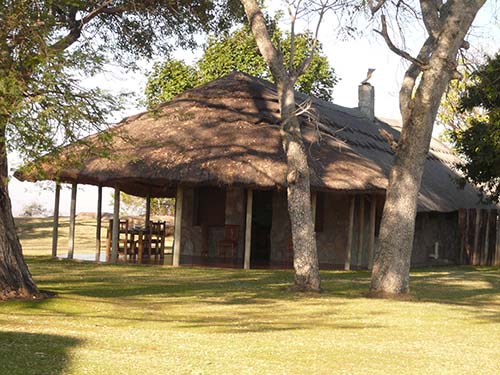 We never mix different clients in any of our camps hence all safaris will be very exclusive. Each camp has exclusive hunting rights in that area – varying from 75 000 acres to 200 000 acres. Only lion, elephant and gemsbok hunters may go out of these areas.
Each camp has their own skinning/butchery facilities complete with a cold room.
All of our camps have wireless satellite internet connection installed so that clients are able to access their emails.
Photographs of Fimbiri Camp.
Photographs of Malangani Camp.
Click here to view video of  Chamalaya Camp
Click here to view video of  Dyers Camp
Click here to view video of  Lamulas Camp
Click here to view video of  Nengo Camp
Click here to view video of  Ngali Camp
Click here to view video of  Samanyanga Camp