2021 Daily Rates - all prices quoted in USD
SAFARI
DAYS
DAILY RATE
TOTAL
Lion / Buffalo
(Lion 5 years +)
18
3,000
54,000
Lion / Double Buffalo, 1 trophy, 1 management
20
3,400
68,000
Management Lion
18
3,000
54,000
Buffalo / Leopard
15
1,875
28,125
Buffalo / Sable
14
1,675
23,450
Buffalo / Nyala
12
1,650
19,800
Buffalo Trophy
10
1,400
14,000
Double Buffalo
1 trophy + 1 management
12
1,750
21,000
Management Buffalo (-35")
7
1,400
9,800
Leopard / Sable
15
1,750
26,250
Leopard / Nyala
15
1,650
24,750
Leopard 16" or 4 years +
14
1,400
19,600
Leopard/Management Buffalo
15
1,750
26,250
Double Management Buffalo
10
1,665
16,650
Sable
10
1,300
13,000
Sable/Management Buffalo
12
1,650
19,800
Cheetah
10
850
8,500
Nyala
10
800
8,000
Nyala/Management Buffalo
12
1,235
14,820
Plains Game
7-10
700
4,900-7,000
All hunts come with most of the plains game species.
All 2X1 safaris deduct $75/day/hunter.
NOTE:
Gemsbok is hunted on normal hunts but attracts a higher trophy fee.
Gemsbok and cheetah require a permit prior to the hunt- $1,500 at present.
Management lion- old male without large mane, injured male or problem lion.
Management buffalo- old "dagga boy" spread 35" or less or broken horns.
Any key specie upgrades will be 70% of daily rate plus trophy fee.
Any hunt totaling a minimum daily rate charge of 10 days X $1 400 per day can take up to 4 non-trophy buffalo bulls. 1st bull at $ 3 950 and any others at $ 3 250 each.
Observers Daily Rate
1st-$300 2nd-$250 3rd-$200 4th-$150

Children 16-18
$150
Children under 16 years -
FREE
Cameraman / per day - Foreign
300
Cameraman / per day - Regional
175
Cameraman / per day - Local
120
2nd PH and crew for cat hunts/baiting
500/day
2% ZTA Levy to be included on both Daily Rates and Trophy Fees.
2021 Trophy fees - all prices quoted in USD
SPECIES
TROPHY FEE
SPECIES
TROPHY FEE
Baboon
100
Impala (F)
or bait
200
Buffalo, Cape
6,000
Impala (M)
400
N/T Buffalo less than 36"
3,950
Jackal
200
Bushbuck, Limpopo
1,300
Klipspringer
1,350
Bushpig
750
Kudu, Southern Greater
2,200
Caracal
1,100
Leopard
9,500

Cheetah
7,500
Lion Trophy
47,000
Civet Cat
700
Lion management male
25,000
Dove
2
Monkey, Vervet
100
Duiker, Common Grey
450
Nyala, common
4,500
Eland, Livingstone's
2,200
Porcupine
300
Francolin
10
Sable
6,500
Gemsbok
6,500
Serval Cat
1,100
Genet Cat
450
Steenbok
875
Guinea Fowl
10
Warthog
700
Honey Badger
450
Waterbuck, common
2,200
Hyena, Spotted
850
Wildcat
400
Hyena, Brown
1,750
Wildebeest, blue
1,100
Zebra, Burchell's
1,200
Please note that trophy fees are only applicable if the animal is harvested or wounded and lost.
DEPOSIT POLICY.
We require a deposit being 50% of Total Daily Rates plus 2% ZTA Government Levy be paid to secure a booking, with the balance of Daily Rates to be transferred ninety days prior to hunt commencement.
CANCELLATION POLICY
1. There shall be no refund on any deposit paid if a hunt is cancelled within six (6) months of the date of commencement of the Safari.
2. In the event of a hunt being cancelled prior to six (6) months of the date of the Safari, then 50% of the deposit will be refundable.
3. In the event the Safari is cancelled by the Safari Operator, or the area is closed to hunting or travel for any reason, prior to commencement of the safari, the client will receive a full refund.
4. No refunds will be made if the client leaves the safari before the scheduled completion date.
POST HUNT PAYMENTS
Any transfers or direct deposits for the balance on any charges i.e. trophy fees, rifle hire, curios, staff gratuities etc. must be actioned within 1 week of safari completion.
NO personal cheques or credit cards will not be accepted as payment in Zimbabwe, cash is accepted if accompanied by a stamped ZIMRA form obtained on entry to Zimbabwe.
OTHER CHARGES & LEVIES
2% Zimbabwe Tourism Authority levy on daily rates.
2% Zimbabwe Tourism Authority levy on trophy fees.
2% National Parks levy on trophy fees.
TROPHY TRANSPORT, HANDLING AND DIP & PACK
All dip and pack will be handled by Trophy Consultants International.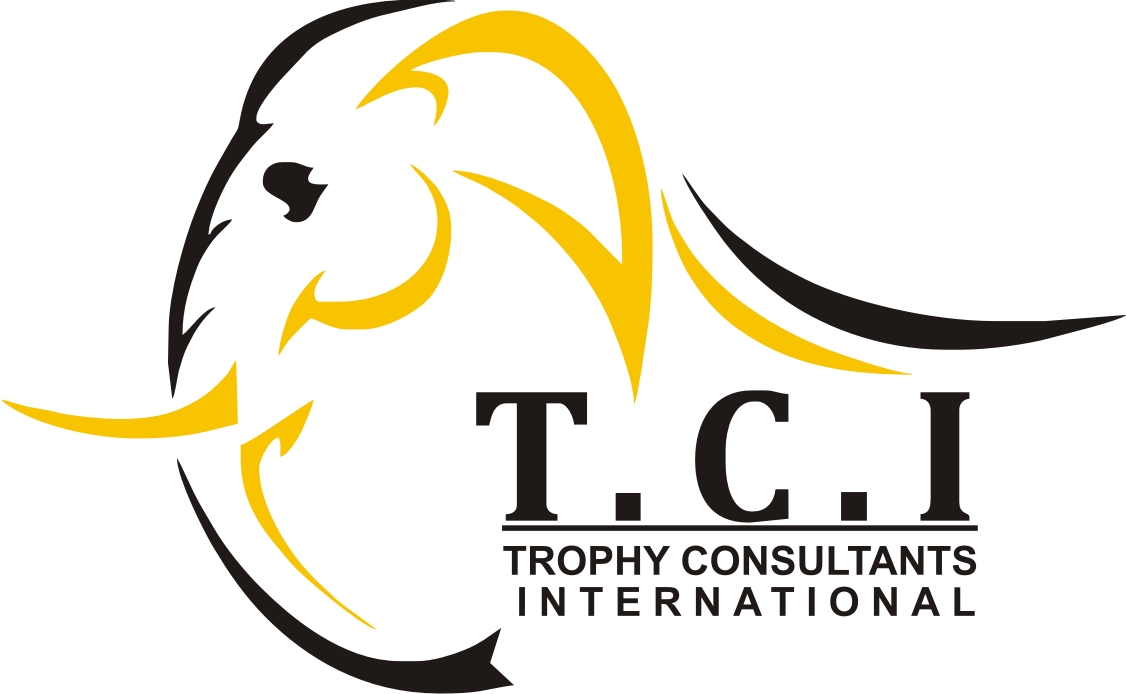 Email: clientliaison@tci.co.zw
* A $200 deposit will be collected by the operator and deducted off the final TCI Invoice.
* All orders are to be confirmed in writing.
* Shipping Charges are to be confirmed through the shipping company
CITES TAGS/PERMITS
USD $100 CITES tag each for Leopard/Elephant.
USD $1,500 National Parks Hunting Permit Fee for Cheetah and Gemsbok. (Please note that this may increase)
PAPERWORK
Hunt Contract – on acceptance of a quote and payment of the required deposit we will provide a hunt contract to be signed and returned.
Indemnity Form – we require one Indemnity Form per person to be completed and returned prior to departure for Zimbabwe. This is a legal document so should be completed in full and legibly.
Client Fact Sheet – we will forward a copy of our Fact Sheet to be completed and returned.
Invitation Letter – will be provided as soon as completed Fact Sheet received with weapons and flight details included.