The Story of the Bubye Valley Conservancy.
This is the story of how a vast swathe of virgin African wilderness was contorted into one of the biggest cattle ranches in the world and then painstakingly transformed back again, against all odds. It's about how the sport hunting of one wildlife species is paying for the protection of another, highly endangered species. It is also an account of how a living laboratory is formulating a land-use model that could be implemented across the continent  of Africa.
To watch this video click here : The Bubye Valley Conservancy
Rhino Conservation in Bubye Valley Conservancy – end of 2015 update.
Unfortunately the rhino crisis has got worse with now 24 carcasses found this year and another rhino was wounded. These guys are coming in regularly and unfortunately the last couple of incursions we have narrowly missed the poachers. See attached statement below with further rhino info. Please note we prefer to keep our rhino numbers confidential.
The BVC scouts yesterday ( Wednesday 9 December 2015) had a shoot-out with a gang of 3 poachers and one poacher is believed to be wounded. He was seen at 6.15 this morning and our guys are on the follow up as we speak. The poacher did open up at 10 yards at our scouts but fortunately none were killed or wounded.
The population has been growing over the last four years with an average net annual growth rate of 6.4% (black = 6.5%,  white = 6.1%). Five percent is considered the minimum target.
The current year has been a bad one with a total of 22 (black = 19, white = 3) poaching losses detected taking us into decline of -1.4% (black = -3.7%, white = + 3.9%) for this year. (note we lost 37 rhino in 2009 and were able to return to strong growth the following year when poaching was controlled)
BVC still maintains excellent growth potential particularly in the black rhino population with over 50 breeding females.
BVC is the largest rhino population in Zimbabwe and the third largest black rhino population in the world after Etosha and Kruger. Hluhluwe-iMfolozi, Kunene (NAM) and Great Fish River (RSA) reserves are all under 200.  It is also the largest black rhino population in Africa on private land. The BVC black rhino population is rated as Key 1 by the African Rhino Specialist Group which means that the population is considered key to the overall survival of the species. BVC's white rhino population does not really rate in the world scale though it has the potential to due to the land area available.
For further information on the BVC please look at the website – bubyevalleyconservancy.com
Rhino Conservation in Bubye Valley Conservancy and Zimbabwe – end of 2014 update.
There unfortunately is still a concerning perception that rhinos are doomed and rhinos in Zimbabwe are actually already finished. Though the situation is definitely critical it is certainly not hopeless as the Zimbabwean experience illustrates. Zimbabwe has suffered two periods of massive poaching pressure. The first peaked in 1990 and the most recent onslaught which so far seems to have had its heaviest impact on Zimbabwe in 2008 and 2009.
The graph below shows how these waves of poaching have impacted on the Zimbabwean rhino population and how the populations are recovering – in a country that has no trophy hunting of rhinos and drastically reduced eco-tourism incomes to fund the substantial protection efforts required to achieve these results. The greatest rhino conservation success in Zimbabwe is being achieved in the large conservancies in the South East Lowveld under private and NGO management.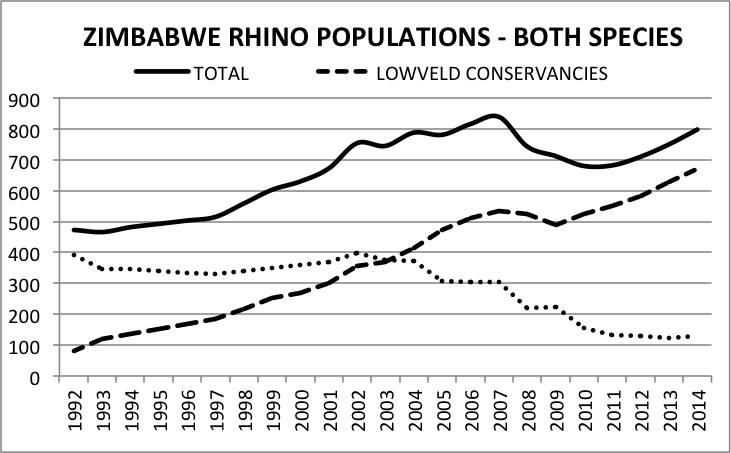 Rhino poaching losses in 2014 in Zimbabwe total 9 animals. This is down from the 28 recorded in 2013. Overall Zimbabwe's rhino population has grown by 6.4% in the past year. South African poaching figures to the end of 2014 record 1,215 rhinos lost to poaching, up from the 1,004 recorded in 2013. These massive losses are of serious concern even though they are yet to reduce the national population. Zimbabwe's poaching losses in 2014 amount to 1.1% of the national population – hence the achievement of over 6% growth.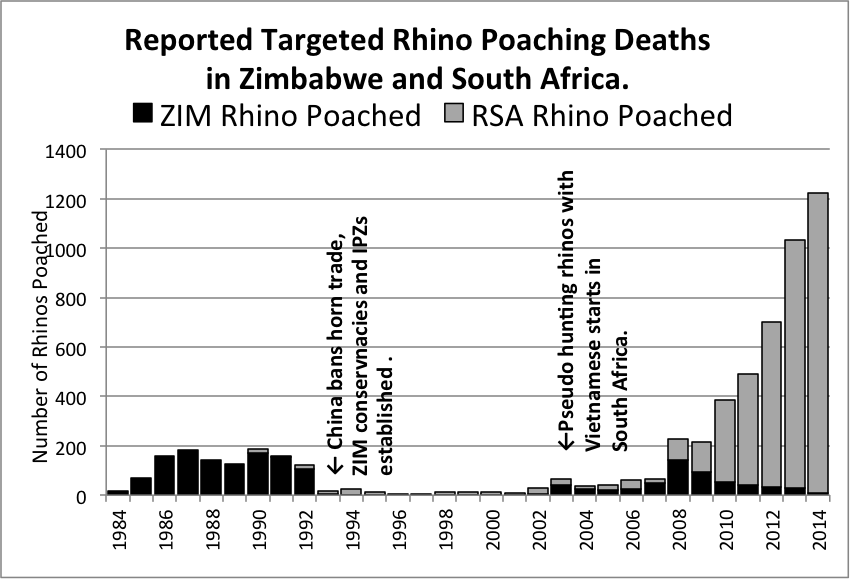 Bubye Valley Conservancy suffered 4 poaching losses in 2014 (4 black and 1 white), which is down from the losses in 2013 but with over 25 new rhino calves recorded and more still to be confirmed, Bubye Valley Conservancy is maintaining strong population growth. 2014 is an especially high growth year for the Bubye Valley Conservancy black rhino population with an annual growth rate of 12% realized so far.
Technically growth rates for rhino populations must be calculated over longer time periods because they typically only produce calves once every two or more years. The Bubye Valley black rhino population is averaging +9% growth over the last five years despite poaching losses.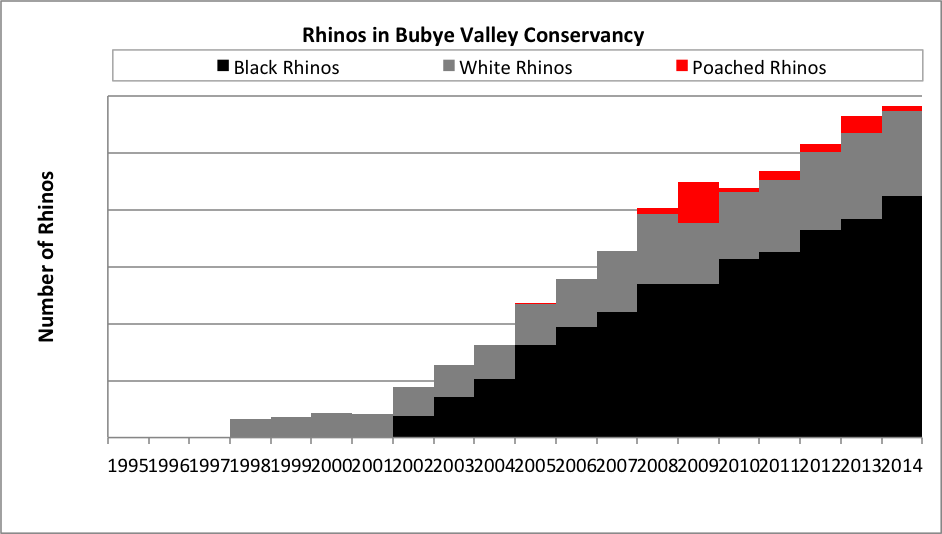 We are looking at further protection of our rhinos if we get funding towards the hire of a helicopter and tracker dogs each and every time we have a poaching incursion. There is no question of doubt that the war against rhino poaching will continue.
Lion
The BVC has approached the Zimbabwean government for permits to translocate excess lions to both Rwanda and Mozambique. Our present research data indicates that we have double the lion population we should have. Of further good news is that we have a further 5 year lion research project on schedule. Generously funded by private donors as well a Dallas Safari Club.
Still of some huge concern will be the decision by USFWLS during 2015 on the status of the import of lion. Hopefully they will not let politics or personal feelings precede over doing the right thing for the lions. The banning of imports of lion trophies will prove the end of this magnificent species. The Zimbabwe National Parks are enforcing a country wide strict criteria for the correct age of lions taken (all lions taken from the BVC meets the criteria).