Another excellent season of hunting on the BVC and exceptionally good rains has kept the vegetation in pristine condition throughout the year. The biggest disaster of my year was when I drove over Goombie and killed her on my first safari. I have since got 2 new puppies (Mampara and Zulu).
The recent removal of Mugabe is the best news we have had for the country in over 30 years. There is no question that there are soon going to be huge positive changes for Zimbabwe and as recently shown, our country remains one of the most very peaceful in Africa.
RHINO – sadly we have lost 19 rhino to poachers this year and the fight continues to save these critically endangered species. Once again the BVC has itself spent in excess of half a million dollars to combat the poaching. More can be done to help with the situation, such as changing the top of the 450km fence to make it more difficult for poachers to enter as well as having a helicopter for quick reaction and deployment of game scouts. However, the BVC itself cannot outlay any more capital and hopefully somehow we can still make this all happen.
LION – As expected our lion hunting remained exceptional and 100% successful on 9 hunts and without a doubt the finest wild lion hunting in the world. The recent uplifting by the US of the ban is further great news and we hope sanity will prevail for the future of our lions. The biggest threat we continue to face with negative world opinion is the continuing canned or captive bred lion hunting in South Africa. We all need to unite to close down this despicable practice and unless we do, world opinion will remain against the entire industry.
Below is a photograph of my last lion of the season taken by Steve Chancellor during late October, a truly spectacular lion. During this hunt we had at least 15 other great lions on bait, all non pride males. Steve commented to me last year (2016) during his first visit to the BVC and his 86th safari to Africa, that this is the best area he has ever seen in Africa.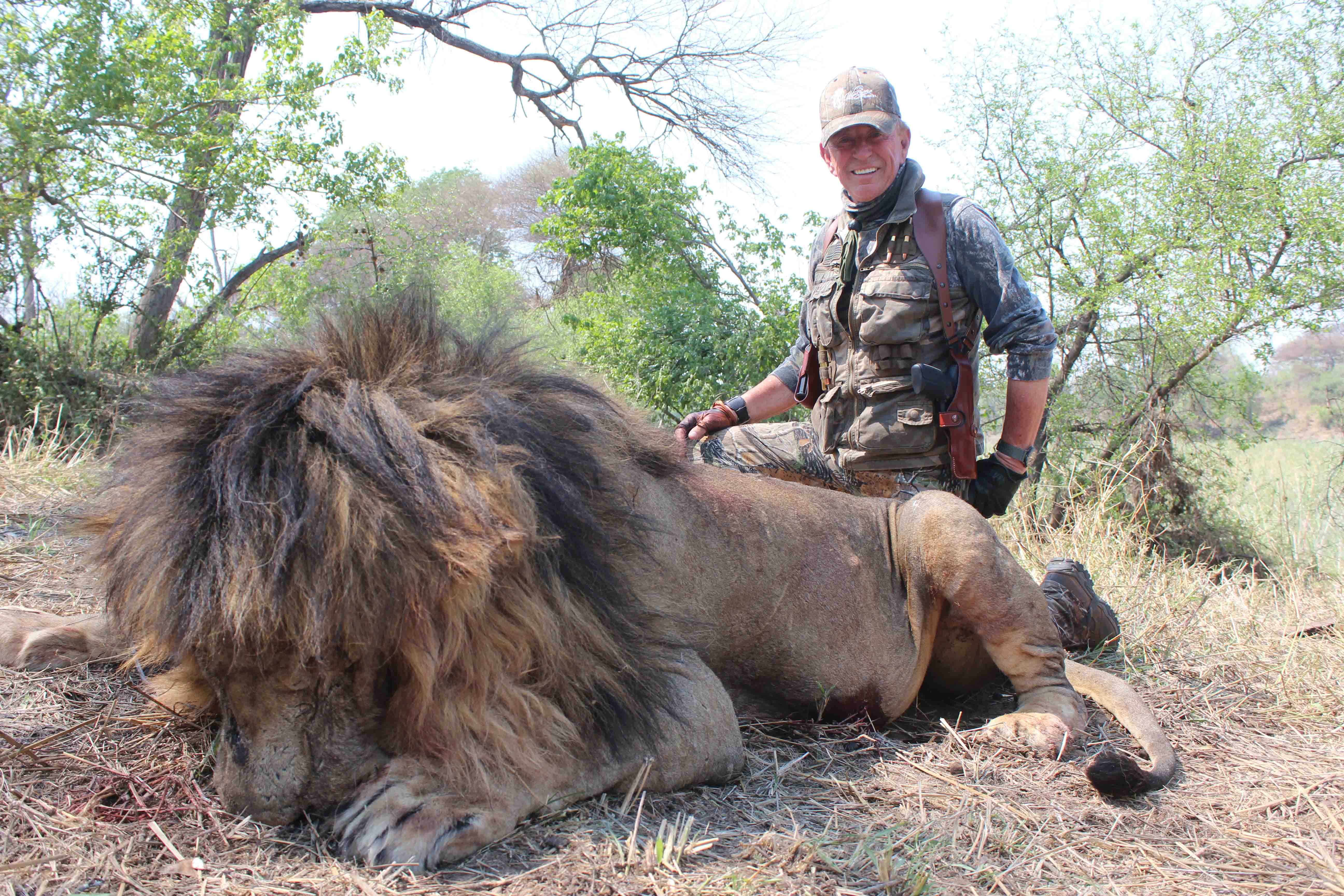 Here are some of the other lion trophies taken this year.
LEOPARD – I had an outstanding season for large leopard measuring from 7' 3" – 7 ½'  and out of 7 hunts 6 were successful. First hunt had 17 leopards on bait and took one on the 6th day of the hunt + we saw a large male on a kopje and a female on the road. 2nd had 9 leopard on bait and took ours on the 3rd day. 3rd hunt had 18 leopard on bait with success on the 10th day etc. etc. The BVC continues to take 19 leopard a year.
BUFFALO – with a population in excess of 6 000 buffalo the BVC remains an outstanding buffalo hunting area. Of the 120 bulls harvested annually 60% are trophy bulls and 40% non trophy (spread of 35" or less.) Seldom will we take a bull from a herd as there are so many daggaboys around.
ELEPHANT – We continue to hunt non trophy young bulls as part of the management plan and the odd problem bull, with 3 elephant for export and the others as non export. We still do not hunt any of the big trophy bulls.
PLAINS GAME – as always a wide variety of species taken and how spoilt we are to have such high populations and variety of plains game species. It`s hard to beat as daily, hunters will bump in to the dangerous game too.