Although the 2014 rain season proved the highest rainfall in almost 30 years, making the brush thicker than usual, this in no way affected the huge success of all the hunts. If anything it proved fantastic for all the herbivore species by supplying more than adequate browse and graze.
During the 2013 season we lost species such as sable, waterbuck in the north due to lack of grazing caused from such a very large population of game.
BUFFALO
A further 200+ buffalo were bought from the GonaraZou area and released onto the conservancy, which should make the buffalo population in excess of 4 000 animals. Due to the high population of buffalo we will be taking off 120 bulls during 2015.
Due to the brush being thicker than normal we ended up following 5 wounded buffalo into the thick stuff. On each occasion the dogs bayed and pestered the buffalo in order for us to sneak up undetected and dispatch it. There is no question that without the dogs we would have had some serious issues.
ELEPHANT
The unexpected US Fish and Wildlife Service ban on import of elephant trophies during April had a very negative impact on our overall conservation efforts. Cancellation of hunts meant a loss of revenue, which hampered our anti-poaching efforts as well as loss of income to staff and their families, communities and the BVC.
The surrounding communities lost out further by elephant not harvested, which meant they did not get the 3.6 tons of meat provided monthly by us.
Our elephant population is expected to be about 700 and increasing dramatically. From 5 – 30 animals enter the BVC each year from neighboring areas and they have a natural increase in breeding rate of about 5 – 7% per annum. We started with only about 200 elephant less than 10 years ago.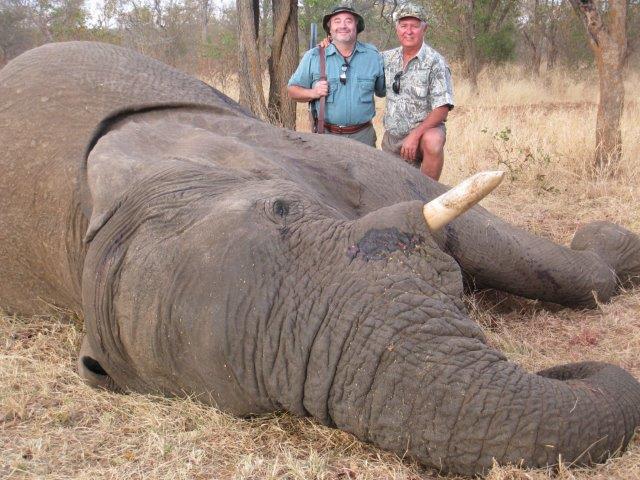 LION
As always, a fantastic success rate on large maned lions and due to the over population of these large cats we will be looking at reducing their numbers, hopefully by capture and translocations and an increase in our hunting quota.
On my last lion hunt during November we had 29 different mature male lions feeding in 9 days of hunting. Without question the BVC remains the top destination in the world for wild lion hunts. Nothing is guaranteed but I will pretty much guarantee any client a lion on his first hunt with us. Although we are legally allowed to hunt at night, none of my clients have ever shot their lion trophies out of daylight hours over all the years I have been hunting here.
Although no – one was injured by a wounded lion this season we did have a full on charge by a wounded problem lion in the Ripple Creek area. My client shot the lion in the stomach the night before. Tracking was extremely difficult the following morning, due to thick grass and lack of blood.
After about an hour of tracking where the dogs got onto the trail we heard them baying the lion a long way ahead. When we got there, there was no sign of the lion but just 2 of the 3 dogs. I heard the one bitch (Goombie) barking about 200 yards ahead and commanded the other dogs to join her.
They took off and with the dogs now all barking, the lion commenced to growl very loudly and immediately came for us. He was taking these huge leaping bounds with his head up. He ran straight past and scattered the dogs and focused fully on the hunting group.
3 of us were armed and the first 3 shots failed to stop the lion.
Fortunately at about 10 yards we managed to kill him in front of us. I had never had a lion charge from such a long distance before.
Ganyani (the male dog) got bitten by a wounded lion. My client had shot the lion in the spine. I walked up to it and put a bullet in the lung/heart area. The dog was next to me and decided if I could not kill the lion he was going to.
He ran up to the front of the lion, which grabbed the dog with its paw and pulled him towards its mouth. As the lion bit down on the dog I shot and killed it. The dog was fortunate to still have his harness and jersey on, which saved him quite a lot. The wounds were not serious and he was only off work for 10 days.
LEOPARD
All 19 leopard tags were filled again during the 2014 season. Again the smallest cat harvested by my clients was 7' 2". We continue to insist on only large/old males taken with a skull measurement of a minimum of 16". Each and every leopard hunt proves a number of different males hitting baits.
RHINO
Although we do not hunt either of our rhino species we unfortunately lost 4 to poachers during 2014. 4 poachers were apprehended and are presently in custody awaiting trial. On a very positive note, our rhino populations are increasing by 8% a year and our anti – poaching efforts are proving of the highest success rate in all Africa.
During the course of a few hunts we did get charged by some black rhino, which added to the excitement of these hunts. We are in the initial stages of exploring ways to seek further funds for further protection of the country `s rhinos. Mainly to be able to put a helicopter in the air each and every time we have a poaching incursion, this in itself will prove a major deterrent. Additionally we are looking at getting proper tracking dogs, which will enable us to get on to the poachers much quicker (with the helicopter being able to follow above with more armed personnel.) The use of trail cameras is also proving affective in detecting poachers but we need so many more cameras.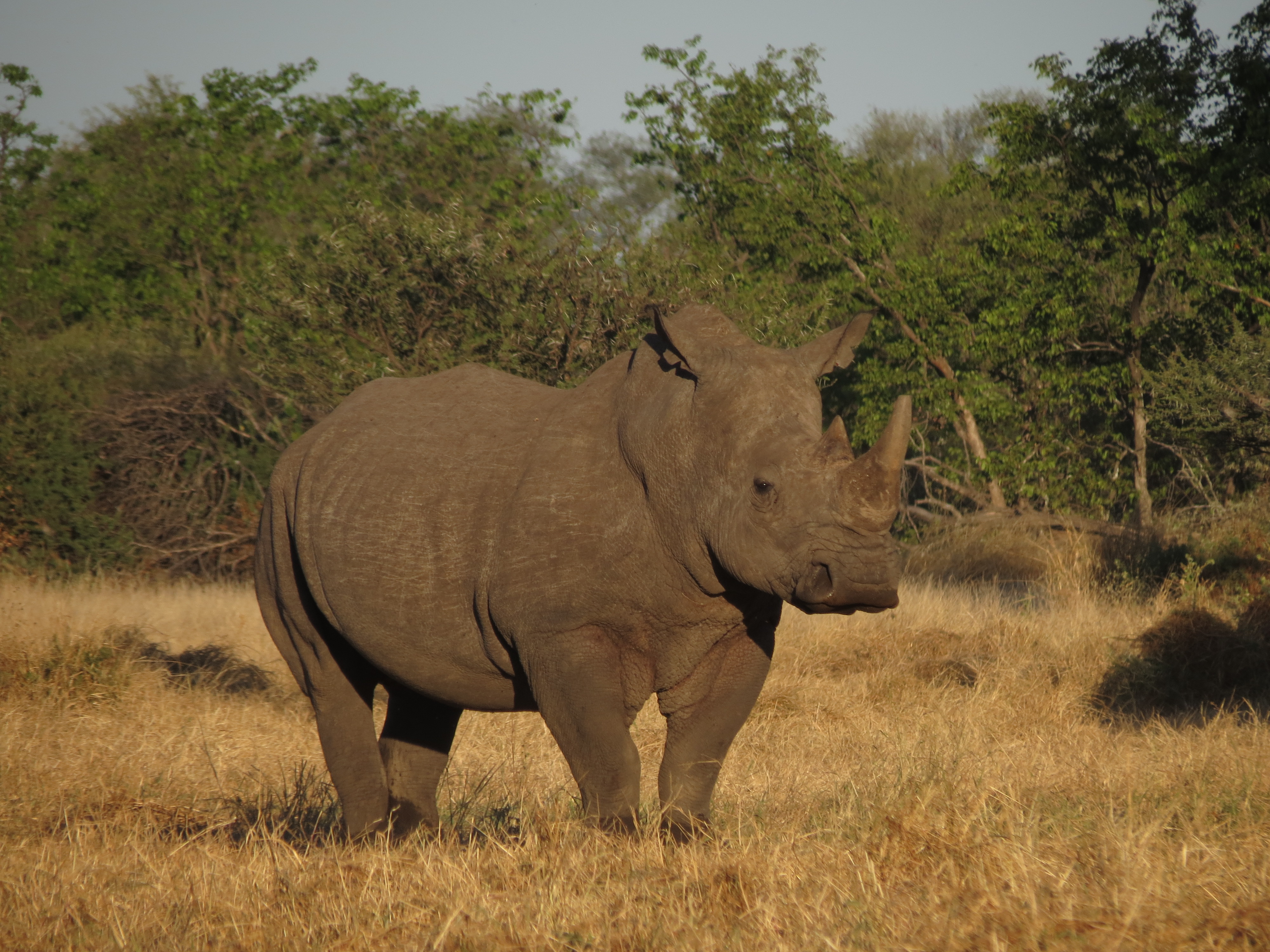 PLAINS GAME
As mentioned before – who could ask for a better first time plains game hunt than in the BVC. Hunting such a variety of species in and amongst the dangerous game (it does not get better than this.) A bunch of really good trophies were taken of all the different species, largest kudu 59", sable 44 ¼", waterbuck 34", Wildebeest 32", nyala 29", impala 24" etc.
I will never forget a client of mine commentating after numerous safaris in different countries but first hunt in the BVC.
" I have seen more game here in 2 days, than 21 days of hunting in the Selous. How I wish my agent sent me here on my very first plains game hunt. I went to South Africa first time, which was nice but it was more like a vacation than a proper safari"
We have further approached government to allow us to hunt Brown hyena as we are over populated with this species. (Presently they are a protected species.)
To end a comment from a happy client, Harris J.
"I cannot stress how much I recommend Pete and the BVC.  Having hunted in Tanzania, Zambia, Zimbabwe and South Africa with all kinds and ranges of outfitters, Pete and the BVC are unquestionably the best African safari outfit on that continent.
In terms of quality of trophies, convenience of transportation, quality of amenities and lodging and personal service.  By far the best safari I have ever been on and I personally guarantee that you will feel the same.   The Houston Safari Club magazine this month had a long write up about the BVC and I can personally attest to it, unbelievable"